Robin Loves Managing the Sox…and Other Highlights From Day 2
Today's News
General Manager Rick Hahn and Manager Robin Ventura both confirmed a report by Comcast Sports Net Chicago's Chuck Garfien yesterday that Ventura turned down a November offer to extend his contract through the 2015 season.  Ventura, who led the Sox to an 85-77 record in his first season as manager in 2012, is signed through 2014.
"In talking to Rick, we have two more years to do this.  We have good communication and everything is fine," Ventura said. "This is my contract.  I was the same way as a player … I'll worry about it at the end of it.  I want the White Sox to think in two years that I'm still the right guy for the job.  I'm not holding out for anything or disappointed and not wanting to stay here.  I think at the end of the contract is when you talk about it. I'm more worried about what we are doing right now with this team and this spring training more than 2015."
"I love what I'm doing," Ventura told Garfien about managing the White Sox.  Read the complete story HERE. 

More from the skipper:
http://chicago.whitesox.mlb.com/news/article.jsp?ymd=20130213&content_id=41605226&vkey=news_cws&c_id=cws
Quote of the Day
"His focus isn't on 2015 at this time," Hahn said of Ventura. "His focus is on now. It's really a testament to him. He's the exception and not the rule in this game."
Play of the Day
Newly signed free agent Jeff Keppinger and a group of position players took batting practice.
Tomorrow's schedule
John Danks will take the mound for the first time this spring.
Did you know…
..that the White Sox spent their first two spring trainings (1901-02) in Excelsior Springs, MO?
Photo of the Day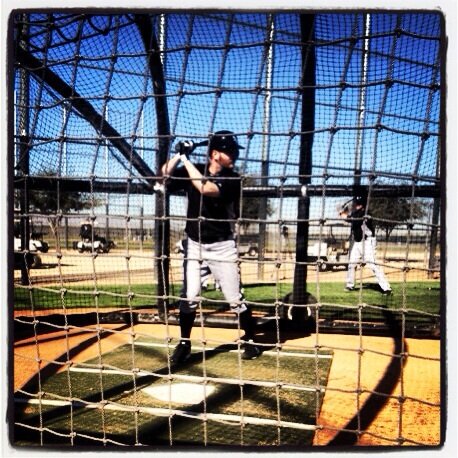 Keppinger takes BP