Danks Debuts, Robin Reacts and Discusses Keppinger, Morel and the Sox Defense
Today's News
The big news in camp today was John Danks' first performance of the spring, a bullpen session. Here is Danks' reaction to his 2013 debut.
How it felt to throw again: "It felt real good. It's encouraging to be able to go out there and throw all four pitches and feel good after. I feel good about my performance. It's obviously the first one, but it felt good to get out there."
The difference between today and his offseason throwing: "It's a little different since it's been just my buddy and me the whole time. To have everyone out here watching is a little different, but it was good to make all of the throws and get some life behind the ball and throw strikes for the most part."
Is it more important how you feel or where your pitches are?:  "Both, really, at this point. I'm just trying to get back to being healthy. The next step is to start worrying about pitches, but I think right now it's still proving to everyone that I'm 100 percent healthy."
On his schedule from this point on and the timetable to be ready for Opening Day: I think I throw another bullpen in a couple of days, some BP's after that…I'm just trying to do what I'm told. I'm not going to push things. I think the one common goal is to be healthy and out on the field. I'm going to do everything in my power to be out there."
Can he return to where he was two years ago?:  "That's the million dollar question, really. I've been dealing with the shoulder for so long now you kind of forget what it feels like to be healthy. You try to figure out if what you're feeling is normal or something that comes along with an injury. I feel great, I really do. This is the best I've felt in a year or so, things are on the up."
Here's manager Robin Ventura's take on Danks' outing along with a few other interesting observations.
On his impression of Danks today: "He looked great. As far as the delivery, he looked pain free. It looked free and easy, and I think that's the good news. We'll see what he's like in a couple of days when he goes back out there and does it again. As far as watching him, the last time seeing him throw, the look on his face and what he was going through is a lot different right now which is great news."
On Jeff Keppinger hitting at the top of the lineup: "I would hope so. Again, we'll see how that goes when we start moving guys around in spring training, but with his track record of what he does and what he's capable of you'd like to have him up there as a high average contact guy who can move the ball around. He can hit the ball out of the ballpark too, but he's just a professional hitter."
On the possibility of playing Brent Morel at other positions besides third base: "We might. It could give him a lot more range too, as far as what he can do. I know he can play third base, that's not the issue. It's giving him a little more versatility, maybe sticking him at second base, I know he's done that before…"
On Morel making the 25-man roster: "I don't think it's an uphill battle, he's in there with everybody else. I'd like to see him healthy first and then we can go from there."
On the defense being as good as last year, maybe better: "You always want it to be better. It's important to stay consistent with your approach being that defense is a priority…you have to wait and see before you make assumptions like that, but I'd like to be better."
Quote of the Day
"I used to think there were three kinds of arm actions," pitching coach Don Cooper announced after observing coach Joe McEwing throw batting practice. "But you've shown me there are four. I forgot disco!"
Play of the Day
Without question, Danks' pitching debut.
Player of the Day
Outfielder Alex Rios earned Ventura's and coach Mark Parent's nod as camp "Player of the Day" for his round of BP.
Did you know…
…that promising outfielder Jared Mitchell, along with LSU teammate Chad Jones, were the first two student-athletes to be part of a BCS championship football team (2007) and a College World Series winner (2009)? Mitchell also was named the Most Outstanding Player of that CWS.
Photo of the Day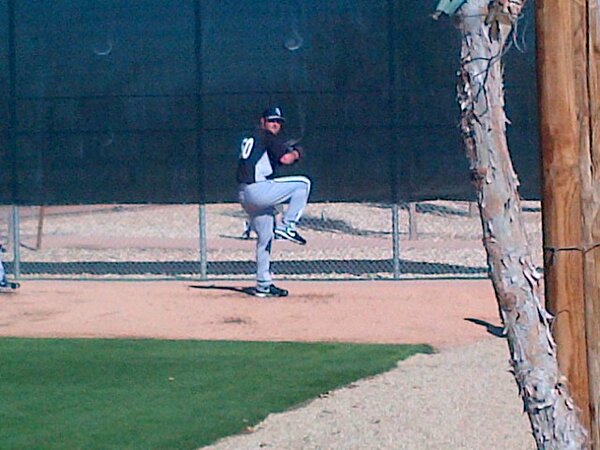 Danks' bullpen session "felt real good."