News, Notes and Quotes on a Spring Training Saturday
Today's news 
With the full squad reporting tomorrow, the Sox hitters in camp took live BP for the first time…Sox fans will be happy to know that Adam Dunn is looking very trim as he enters his third spring training with the club…Many of the pitchers are beginning the process of signing baseballs, jerseys and other items that will be used for Chicago area charities during the season.
Can't get enough info on your favorite baseball team? Here's a tip. Follow the White Sox account and these Sox beat writers on Twitter: 
White Sox — @whitesox
Scott Merkin, whitesox.com — @scottmerkin
Mark Gonzales, Tribune — @MDGonzales
Daryl Van Shouwen, Sun-Times — @CST_soxvan
Dan Hayes, Comcast Sports — @DanHayesCSN
Doug Padilla, ESPN — @ESPNChiSox
Quote(s) of the Day
General Manager Rick Hahn, during an interview today with ESPN Radio 1000 in Chicago, explained that the White Sox view their farm system as a resource for the big league club and pay little attention to annual rankings that rate the Sox system among the lowest in baseball.
"Would we prefer to be ranked higher?" Hahn asked and answered. "Yes. But from our perspective the farm system functioned extremely well in 2012."
Hahn also pointed out that the Sox system contributed a front line starting pitcher (Chris Sale), a 25-home run outfielder (Dayan Viciedo) and a back of the bullpen arm (Addison Reed).
"And we set a major league record by using eight rookies in one game–a game we won," Hahn added. 
Something must be going right.
Hahn also discussed the bullpen roles for 2013 and the flexibility Robin Ventura will have in creating the very best matchups:
"Robin has the flexibility to use the best guy to get the most important out on any given night. Sometimes that's not the ninth inning."
Play of the Day 
Heads up: Jared Mitchell lined a shot off the pitcher's screen during batting practice only to have it ricochet back over the batting cage and hit the on-deck hitter right where it shouldn't. After some laughter, the victim appeared to be OK and is day-to-day.
Tomorrow's schedule
Full squad will be in the house. Team meeting is scheduled for 9:00 a.m. in the clubhouse with Rick and Robin.
"Mine's not long enough to be scripted," RV said of his team speech tomorrow. "I know they like the short part."
Did you know…
…that promising Sox outfield prospect Trayce Thompson is the brother of Klay (Golden State Warriors) and Mychel (ex-Cleveland Cavalier now in the D-League) and the son of Mychal, who played in the NBA for 14 seasons?
Photo of the Day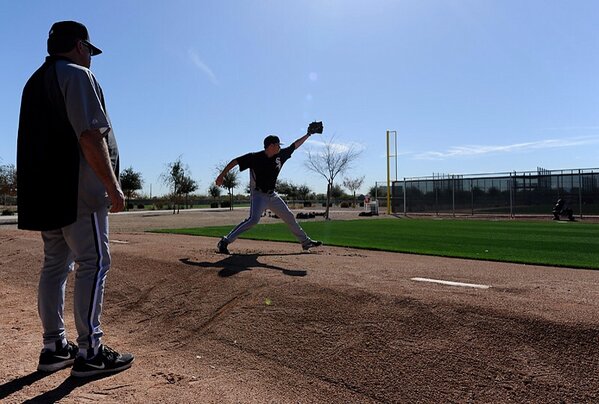 Jake Peavy under the watchful eye of pitching coach Don Cooper