Results tagged ' Inside the White Sox '
Thursday, February 21, 2013
Today's News
Here are the highlights from today's first Sox intrasquad game at Camelback Ranch: Team 1 (major league starters) nipped Team 2 (mostly minor leaguers), 4-3, in a 5 1/2 inning contest. Team 1 was paced by Brent Morel (double, RBI, run scored) and Blake Tekotte (triple, RBI). Simon Castro gave up a lone run in two innings of work. Josh Bell (single, RBI) and Jared Mitchell (RBI, HBP) collected RBIs for Team 2, while Leyson Septimo pitched one scoreless inning. Here was the scene at today's game:
Assistant GM Buddy Bell Reviews Sox Prospects
On 2012 No. 1 draft pick Courtney Hawkins: "One of the reasons we sent Courtney up to (Class A) Kannapolis is that we wanted to get him in an environment that was faster than (Advanced Rookie) Bristol. The (high Class A) Winston-Salem thing tricked us because he did so well. As it turns out, no matter what level we sent him to he actually kept getting better and better and that's a testament to how talented he is. It also showed us the kind of makeup he has and that he's a tough kid who gets better as the lights get brighter, which is great for moving up the ladder and eventually getting to Chicago. We'd like to get him to Double A (Birmingham) by the end of the year. In saying that, if he doesn't get to Double-A it's not that big of a deal."
On 2009 No. 1 pick Jared Mitchell:  "As (last) season went on, he got healthier…He, for me, probably looks better than anybody in camp right now in terms of body and progress. We had him in the instructional league last year for about 10 days and he kind of tweaked his hitting approach a little bit. His balance is really good right now and I'm really anxious to see what he does in a game. He's probably one of our top five guys in the organization when it comes to competing. This kid competes like crazy, right now he's as impressive as anyone we have in camp. He'll start the season at (AAA) Charlotte."
On who is the one prospect to have the kind of year Carlos Sanchez had in 2012:  " (Infielder) Joey DeMichele. "We drafted him out of Arizona State and he's a really interesting guy. We'd like to think of him kind of like (Jason) Kipnis of Cleveland, because he can run a little bit, has some pop in his bat and is a high-energy kid…We're kind of on the fence whether he starts at (A) Winston-Salem or (AA) Birmingham. We're also looking for (Tyler) Saladino to have a (good) year as well. He'll start at Birmingham."
On promising prospect Trayce Thompson:  "He's going to start in (AA) Birmingham. We expect really good things from him. He's another guy who looks really good, he's always had a terrific body but he's starting to get his man strength in his shoulders and legs. Obviously, he's had two really good years and we want to be careful with him because kids with power, they seem to come a little later, especially outfielders."
Kenny Williams on CNBC
Kenny, who was named to the annual list of 100 influential African-American leaders by thegrio.com, appeared on CNBC discussing the business of Major League Baseball and building a championship team. Click on the link to see the interview.
video.cnbc.com/gallery/?play=1&video=3000149023
Behind the Scenes with Coop and Herm
Here's an interesting conversation among CSN's Dan Hayes, Sox pitching coach Don Cooper and head trainer Herm Schneider. Click the link below.
http://www.csnchicago.com/blog/dan-hayes/how-sox-keep-their-pitchers-healthier-everyone-else
Sox Notes of Note
Dan Plesac and Ken Rosenthal from the MLB Network are onsite today as part of the net's tour through team spring training sites.  Check out the coverage tonight on MLBN.
Jake Peavy, the Padres' Chase Headley, the Reds' Brandon Phillips and the Dodgers' Andre Ethier took part in a photo shoot for GQ Magazine last night at the Camelback Ranch – Glendale ballpark.  The photo spread is scheduled to run in the May issue of GQ.  "At least I wasn't alone," Peavy joked this morning.  I told him it would be a little tough in May to run all around the state of Alabama buying all the copies of GQ … then again, maybe not!
Chris Sale Q&A Conference Call With Sox Fans, Part II (First Part Appeared in Wednesday's Post)
Would you ever want to learn how to throw a knuckleball  "I don't think I quite have an arm slot to throw a knuckleball. I've always messed around with it growing up.  It's funny you mention this because I play catch in the off-season with my dad who can throw a pretty good one, and he always gives me crap about it because he has a better pitch than I do. I don't see it in my future, but if it comes down to it I wouldn't be opposed to learning it."
Going into next season, is there added pressure in the American League Central Division with the recent additions among teams?  "I wouldn't say it's added pressure. I think it's added motivation to be honest with you. It motivates us to live up to who we are and what we do. This is a team effort, but it takes a group of 25 individuals putting everything they have into one collective group. We have guys in here that put it on the line and we all play for each other. That's the main thing and that's what we did last year and it worked well. I don't think we're going to sit here and say we have more pressure on ourselves, I think we have more determination going into this year. It's not going to get any easier from this day forward. We all know that and we expected that. We're ready for it."
What do you believe you or the team can do to improve upon last year's performance?  "You set out every year to be the best you can be. For myself, personally, I don't like to set goals or a bar for myself because sometimes you don't reach that bar and you get down on yourself and get disappointed.  Also, say you reach that bar, you kind of give up. You say 'I've met my goal so I can cruise in from here on out'.  For me, I want to be as consistent as I possibly can and do everything I can to help the team win. I'm not going to sit here and tell you that I'm going to rattle out this many wins and this is going to be my ERA, but obviously I'm going to take into account what happened last year and work on things I didn't do so well and sharpen the things that I did do well and see where it takes me."
Who is the toughest challenge you had in the batter's box last season?  "I have to go with Billy Butler from Kansas City. It seemed like every time I faced that team, if I gave up five runs, he had three RBIs. He, for the most part last year, owned me. I'm very disappointed to say that. He's just a good hitter and he hits the fast ball well, and it seemed like he had a little bit better eye than he had in the past.  He took me deep a few times last year and in previous years. He seems to be the one guy that gives me the most trouble at the plate."
As White Sox fans, are we ready to say that we have one of the best starting rotations? "Well, I'm hoping you guys are saying that. We're all definitely excited to see where this goes and how it plays out. Not only do we have an unbelievable group of guys, but we have some great talented athletes. I think getting Johnny (John Danks) back and having him healthy is huge.  I was throwing in the cage next to him today and I've been throwing bullpens next to him for the last couple times and he's looking really good. He's very confident. You can tell he's got that step back and is happy to be here. He's working hard and he's doing everything he can. That's going to be fun to see. As a group, we're all excited. We all pull for each other and we push each other; we have friendly rivalries. We all sit down and talk about pitching. We might be good on paper, but we're a tight knit group as well, both in the clubhouse and off the field. We're all pulling for each other and that's the best part. We don't get jealous.  We're all rooting for each other and have each other's back. There's an open line of communication between us and we're bouncing ideas off of each other. I hope you're as excited as we are because we're thrilled to get this year started."
Do you know when your first live appearance will be on the mound in Spring Training?  "Our first game is coming up on Saturday, but I'm not 100 percent what day I'll be throwing.  I'm still talking with Coop about that. I don't think I'm going to throw in February or start a game in February.  We're bouncing ideas off each other and we'll see where it goes."
Quote of the Day
From the Sox clubhouse: "If I tell you it's Christmas in July, hang the stocking."
Play of the Day
GM Rick Hahn interrupted a conversation today by saying, "wait until (Blake Tekotte) triples."
On the very next pitch, you guessed it, Tekotte tripled to right field.
I told him to save them for when they count.
Tomorrow's Schedule
White Sox players will go through a media session tomorrow morning with Kevin Sullivan, former White House Communications Director (and huge Sox fan, by the way).
Did You Know…
…Jeff Keppinger led his University of Georgia team to the College World Series in his junior season with a .389 BA, 18 homers and 73 RBIs? He hit .444 in the CWS, including a triple and a two-run homer off of former major leaguer Mark Prior, then pitching at USC.
Photo of the Day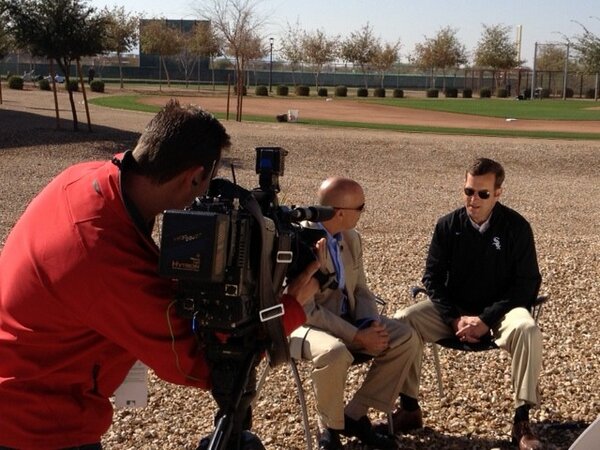 Sox GM Rick Hahn is shown here taping a segment with CSN's Dave Kaplan for tonight's "Chicago Tribune Live."
Today's News
Paul Konerko met with the media today as the full Sox squad reported to camp for the first time. He talked about a variety of subjects.
On the prospect of this being his last season: "Nowadays in your 30s in the major leagues, let alone mid-30s or late-30s, it's always on the table that your last year could be coming just because everything is going so much younger. The rosters show that and I'm aware of that, but it's something that will be talked about after the season."
On if the high expectations he has for himself will factor into the decision: "Probably yeah, that's part of it. There are so many moving parts to it. It's not just about performance on one level or the other. Poor performance is definitely one way to get yourself out of this game, because someone might not invite you back. Doing well also doesn't mean you're going to keep playing even if someone wants you to play. You're dealing with families, your own mind, what you want to do. There's a lot of different things to it, different variables and trying to predict where all those variables are going to be 10 months from now, nine months from now, whatever it is, it's impossible to do. One affects the other, that one affects another and it's tough to project. The main thing is and it's hard to do, especially when people are going to be asking abot it, is to break it down as simple as I can and that's the day in front of me. Today is the first day coming here and it's about getting the kinks out, get sore and move on to tomorrow and do that as the season goes the best I can."
On being the only remaining member of the 2005 World Series champions on the Sox roster: "Not too many (thoughts) because its been a gradual thing over the last handful of years where guys are moving on. I think it's pretty normal, you probably find a lot of turnover in a five, six, seven-year period. Guys get older and usually to win a World Series it takes some older guys to begin with. Guys move on so I don't think it's that big of a deal. Hopefully we can make a run here and challenge for for another one before I'm done playing here, but I don't really think about it too much unless someone brings it up to me."
On his motivation this year to catch Frank Thomas in some statistical categories: "I got to where I'm at right now statistically as a by-product of going out and playing and trying to do it as right as I can. The numbers just kind of happen when you're doing that, whether it's for a week, a month, a season, or multiple seasons and it just adds up. It's definitely not a goal that would make me play the game."
On imagining not playing: "No question I could. I mean you have to, what's the other option? All my tight friends who I played with coming up are all out of the game so I see what the other side is. There are pluses and minuses to that. I pick their brains on it. You have to prepare because it's going to happen at some point as it does for every player. I'm not afraid of that, I'm not scared of it, and I just want to go as hard as I can until it happens."
On playing for another team: "As you get older in the game, especially nowadays, you have to be more flexible if you want to continue to play. If you want that, you have to be more flexible to move around and it might be a place where you don't want to go. Like I said in spring training two and three years ago, the whole exercise of going through the last year with the White Sox, the last year of your career and all that, I've already kind of done that before. This is just dusting off those feelings and those thoughts and getting back to thinking what I was thinking. Three years ago I was prepared for anything–the end of my career, the end of the White Sox, me playing for the White Sox. I was prepared for that three years ago so to do that again, to re-up, is not that big of deal the way I see it."
On being the "old man" in the clubhouse: "I don't feel like it, but I'm told I am."
While the sports world celebrates Michael Jordan's 50th birthday today, Sox and Bulls Chairman Jerry Reinsdorf has a compelling take on MJ's baseball career:
 http://www.suntimes.com/sports/18262953-419/reinsdorf-michael-jordans-baseball-stint-was-no-strikeout.html 
Quote of the Day
"I got Paul Konerko!"– Shouted by a young fan today after securing PK's autograph on a baseball.
Play of the Day
"I'd hate to be paired with Nate Jones today," an observer said of the hard-throwing reliever during live BP sessions, "because it looks like he's throwing 115 mph."
Did you know…
…that Paulie was the Los Angeles Dodgers' minor league player of the year in 1996? 
Photo of the Day
The gang's all here: Manager Ventura chats with Dunn,
Beckham and Konerko during Day 1 of full-squad workouts.