Results tagged ' Jeff Keppinger '
Sunday, February 24, 2013
Today's News
All knotted up after 9
While the White Sox enjoyed a blowout win yesterday, they engaged in a pitchers' duel this afternoon as the game was called after nine innings with the score tied 2-2. Adam Dunn accounted for the pair of Sox runs with a two-run, opposite field homer off of the Dodgers' Peter Moylan. Dewayne Wise and Alex Rios both tripled. Erik Johnson started for the Sox and gave up one run on four hits in three innings and struck out two.
Sox notes of note
How welcome was yesterday's 9-0 whitewash of the Dodgers? It was the first victory for the Sox in a spring opener since 2004….Matt Thornton threw a 35-pitch bullpen session this morning under tough conditions (cold and windy) and reported no pain…Many clubhouse eyes were focused on the Daytona 500 before today's game…As a result of the chilly weather Harold Baines said he was wearing everything in his locker except one light jacket–and he was considering putting that on.
Danks confident he'll be ready and Peavy's passion for the game
A couple of must-reads from Rick Morrissey of the Sun-Times and Scott Merkin of
whitesox.com
.
A brush with greatness
So it's 35 minutes before our spring training opener on Saturday, and I am sitting in the White Sox dugout on the first base line waiting for pregame festivities to start.  Literally, I am the only one there and I am minding my own business.  The reason I am there, if you ask, is to help organize our team for on-field introductions at 12:52 p.m. … you know, simple stuff like Robin first, coaches and then starting lineup.
Out of the corner of my eye, I sense someone in a Dodgers uniform walking into the dugout.
"Is Robin here yet?' he asks.
I turn an immediately recognize that it is Hall of Famer Sandy Koufax.  Behind him, I see lots of autograph seekers and hear people calling his name.
"Not yet," I say.  "He'll be here is a couple minutes."
Mr. Koufax started to talk.  Fine by me. (editor's note: I did meet Mr. Koufax one spring in Vero Beach, Florida, when I was a kid.  My dad and I were walking down a sidewalk in Dodgertown when here came Mr. Koufax walking toward us.  He was very pleasant but, of course, he doesn't remember me.)
So of course I start small talk with Sandy Koufax.  I ask him how he's doing (fine), where he's staying down here (West Valley), where he lives (up and down the East Coast depending on the weather) and why in the world are "you guys" throwing Kershaw and Greinke at us this early in the spring … since there is a long way to go.
He laughed a little and then explained that he liked to go nine innings once or twice each spring so that he had dealt with the soreness issue before the season had even begun.  "I didn't care about the first start," he said.  "I was concerned with how I'd feel going into the second.  Back then, we didn't have playoffs."
You either won the pennant or you went home, he explained, so every start mattered.
After about 10 minutes, Robin showed up to a big smile and hug from Koufax.
"Back when I was with the Dodgers," RV said, "we used to sneak off and play basketball with Sandy."
(Sandy, by the way, went to the Universithy of Cincinnati on a hoops scholarship).
Basketball?  With Sandy Koufax?  That would have made him about 65 back then (Sandy, not Robin).
"Guy could play."
Truth.
Another true story … maybe
Former White Sox pitcher Grady Hall was in camp on Saturday to say hello and he re-connected with former teammate Mark Parent.
"We played together in the Dominican one winter," Hall said of the Sox bench coach.  "His nickname down there was 'Grande Lama.'"
"Grande Lama," I laughed, almost choking on my lunch.
"Nothing to do with the Dali Lama," Hall corrected.  "It had to do with a sponsor and of course, he's the Grande Lama."
Quote of the Day
Coop on pitching: "Anytime you shut someone out, you've done something," he said referring to yesterday's win. "Every game no matter spring training or regular season, there are always going to be 10 balls hit hard. It's what happens to those 10."
Play of the Day
Dunn's first homer of the spring.
Tomorrow's Schedule
White Sox vs. Giants in Scottsdale (2:05 p.m., Chicago time). Starters are Hector Santiago for the Sox and Madison Bumgarner for San Francisco. Also scheduled to pitch for the South Siders are Addison Reed, Nate Jones, Donnie Veal, Jesse Crain, Matt Lindstrom, Andre Rienzo and Zach Stewart.
Starting lineup: Alejandro De Aza, cf; Brent Morel, 3b; Jeff Keppinger, dh; Paul Konerko, 1b; Dayan Viciedo, lf; Alexei Ramirez, ss; Jared Mitchell, rf; Tyler Flowers, c; Carlos Sanchez, 2b.
Did You Know…
…that Dewayne Wise, he of The Catch, celebrates No. 35 today? Happy Birthday!
Photo of the Day
White Sox Legends Day was celebrated this afternoon at Camelback Ranch.  Pictured from l to rt. Rudy Law, Jerry Hairston, Sr., Steve Stone, Rich Dotson, Harold Baines, Ron Kittle, Floyd Bannister, Daryl Boston, Ron Karkovice, Bobby Thigpen and Robin Ventura
Posted on February 24, 2013 at 6:39 pm

Filed in:

Uncategorized
Tags: Adam Dunn, Addison Reed, Alejandro De Aza, alex rios, Alexei Ramirez, Andre Rienzo, birthday, Bobby Thigpen, Brent Morel, Camelback Ranch, Carlos Sanchez, Daryl Boston, dayan viciedo, Dewayne Wise, Dodgers, Donnie Veal, Floyd Bannister, Grady Hall, Harold Baines, Hector Santiago, Jared Mitchell, Jeff Keppinger, Jerry Hairston, Jesse Crain, Mark Parent, Matt Lindstrom, Matt Thornton, Nate Jones, paul konerko, Rich Dotson, Rick Morrissey, Robin Ventura, Ron Karkovice, Ron Kittle, Rudy Law, Sandy Koufax, Scott Merkin, Spring Training, Sr., Steve Stone, Tyler Flowers, white sox, Zach Stewart
Today's News
The big news in camp today was John Danks' first performance of the spring, a bullpen session. Here is Danks' reaction to his 2013 debut.
How it felt to throw again: "It felt real good. It's encouraging to be able to go out there and throw all four pitches and feel good after. I feel good about my performance. It's obviously the first one, but it felt good to get out there."
The difference between today and his offseason throwing: "It's a little different since it's been just my buddy and me the whole time. To have everyone out here watching is a little different, but it was good to make all of the throws and get some life behind the ball and throw strikes for the most part."
Is it more important how you feel or where your pitches are?:  "Both, really, at this point. I'm just trying to get back to being healthy. The next step is to start worrying about pitches, but I think right now it's still proving to everyone that I'm 100 percent healthy."
On his schedule from this point on and the timetable to be ready for Opening Day: I think I throw another bullpen in a couple of days, some BP's after that…I'm just trying to do what I'm told. I'm not going to push things. I think the one common goal is to be healthy and out on the field. I'm going to do everything in my power to be out there."
Can he return to where he was two years ago?:  "That's the million dollar question, really. I've been dealing with the shoulder for so long now you kind of forget what it feels like to be healthy. You try to figure out if what you're feeling is normal or something that comes along with an injury. I feel great, I really do. This is the best I've felt in a year or so, things are on the up."
Here's manager Robin Ventura's take on Danks' outing along with a few other interesting observations.
On his impression of Danks today: "He looked great. As far as the delivery, he looked pain free. It looked free and easy, and I think that's the good news. We'll see what he's like in a couple of days when he goes back out there and does it again. As far as watching him, the last time seeing him throw, the look on his face and what he was going through is a lot different right now which is great news."
On Jeff Keppinger hitting at the top of the lineup: "I would hope so. Again, we'll see how that goes when we start moving guys around in spring training, but with his track record of what he does and what he's capable of you'd like to have him up there as a high average contact guy who can move the ball around. He can hit the ball out of the ballpark too, but he's just a professional hitter."
On the possibility of playing Brent Morel at other positions besides third base: "We might. It could give him a lot more range too, as far as what he can do. I know he can play third base, that's not the issue. It's giving him a little more versatility, maybe sticking him at second base, I know he's done that before…"
On Morel making the 25-man roster: "I don't think it's an uphill battle, he's in there with everybody else. I'd like to see him healthy first and then we can go from there."
On the defense being as good as last year, maybe better: "You always want it to be better. It's important to stay consistent with your approach being that defense is a priority…you have to wait and see before you make assumptions like that, but I'd like to be better."
Quote of the Day
"I used to think there were three kinds of arm actions," pitching coach Don Cooper announced after observing coach Joe McEwing throw batting practice. "But you've shown me there are four. I forgot disco!"
Play of the Day
Without question, Danks' pitching debut.
Player of the Day
Outfielder Alex Rios earned Ventura's and coach Mark Parent's nod as camp "Player of the Day" for his round of BP.
Did you know…
…that promising outfielder Jared Mitchell, along with LSU teammate Chad Jones, were the first two student-athletes to be part of a BCS championship football team (2007) and a College World Series winner (2009)? Mitchell also was named the Most Outstanding Player of that CWS.
Photo of the Day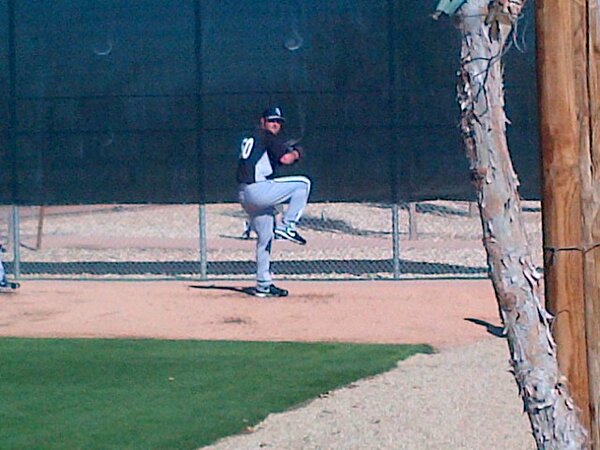 Danks' bullpen session "felt real good."